If you are a current user of the PensionPro Desktop application, firstly, thank you for your continued support! We are excited to be able to bring PensionPro to a more adaptable Web-based environment, and to give it a much-needed fresh coat of paint. We understand that asking you to make this transition with us may feel disruptive to the processes you've been following to this point, but we promise that we wouldn't make this change if we didn't feel as though it would allow us to provide you with the best service that we possibly could. If you are still hesitant, that's OK—this article will familiarize you with PensionPro 2.0, answer some common questions about switching over, and point you to some of the new features we've released exclusively for the Web application!
Table of Contents
---
Introductory Videos & Lessons
Introduction to PensionPro 2.0 – This video contains a brief overview of PensionPro 2.0 and showcases some of the largest differences between Desktop and Web.
PensionPro 2.0 Live Demo – This is a recording from a live webcast in early 2022 which offered a "first look" at PensionPro 2.0. This is a longer video that includes responses to questions from other users.
Staff Orientation: Basic System Navigation and Launching Project Templates – The following two items are interactive eLearning lessons that walk a user through the basics of PensionPro, such as Dashboards and Projects. Although intended for new PensionPro users, these eLessons may help familiarize existing employees with the new look and feel of PensionPro 2.0. Please use the Next and Previous buttons in the bottom-right of the player to navigate through the course.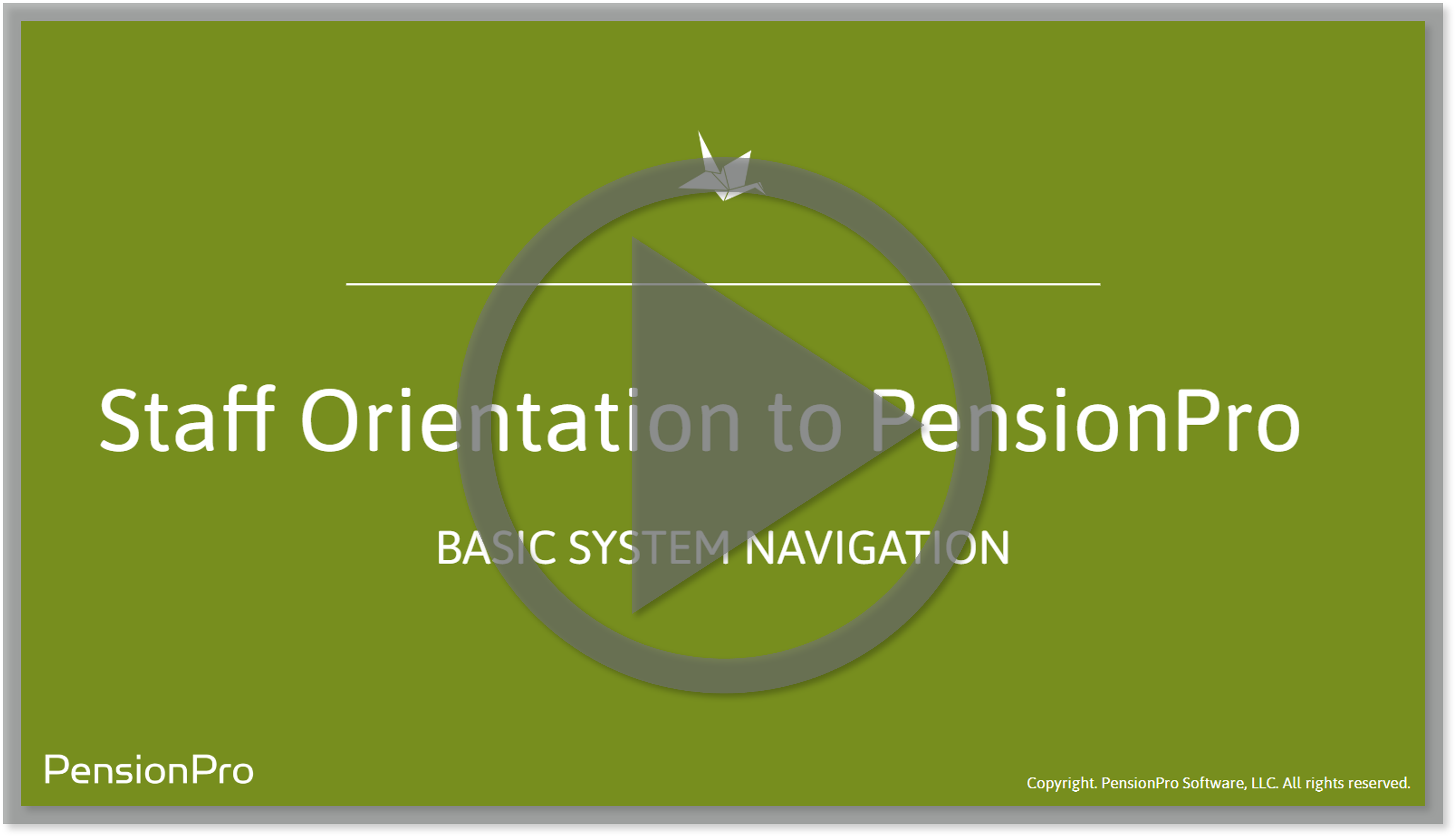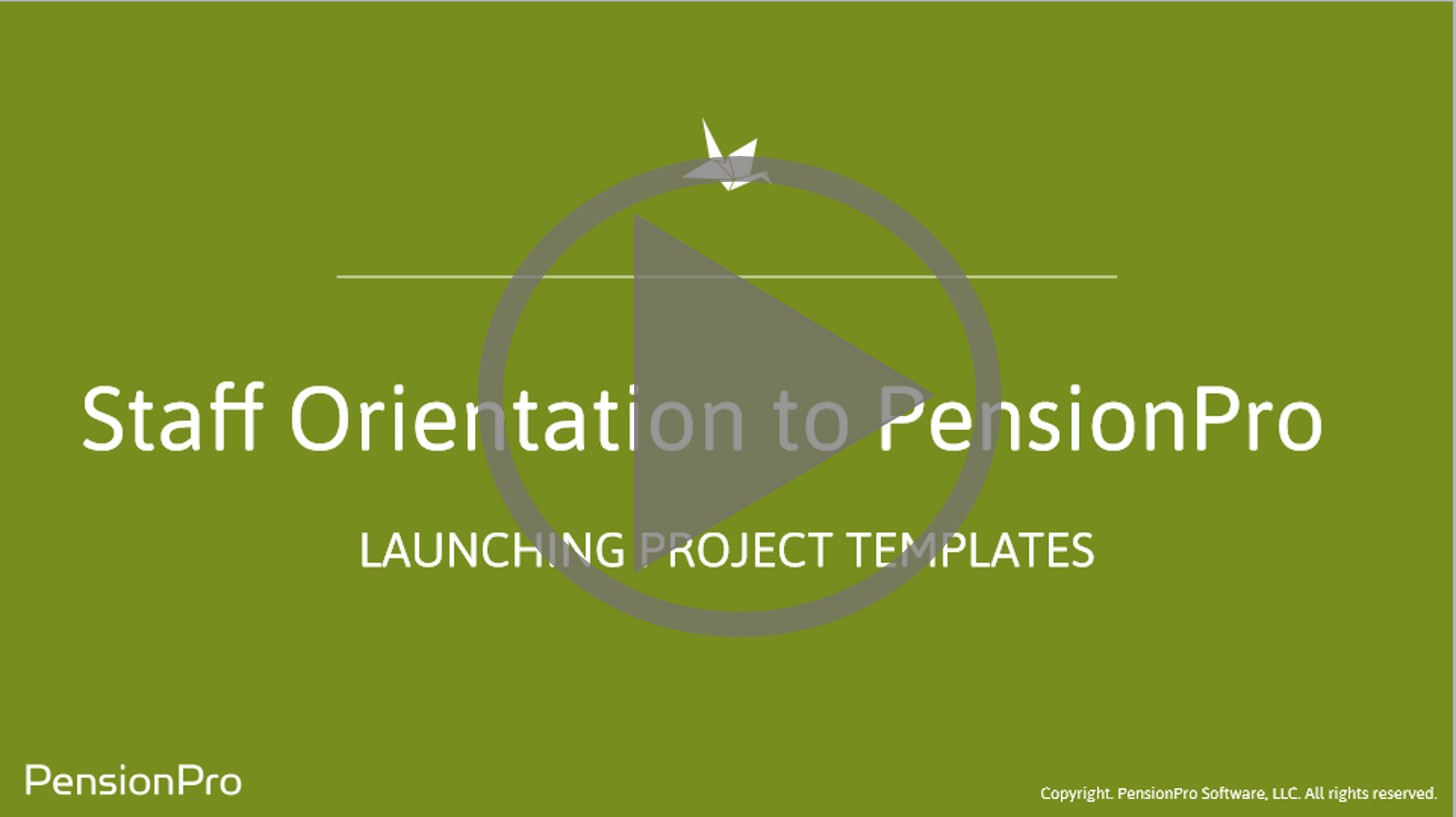 ---
Differences – Desktop vs Web
The following list details the major changes found in PensionPro 2.0:
Technical Differences
Downloading, installing, and updating software is no longer necessary—everything is accessible straight from a web browser.


The following browsers are supported: Chrome, Edge, Firefox, Safari

Improved application speed.
URLs to Clients, Plans, Projects, etc. can be copied and used in other applications.
Information can be highlighted, then copied via right-click.
Browser-based spell checking is available for text entry items.
NEW Features
Project Status field
Forward email Interactions
NEW Enhancements
Dashboards

Items in My Tasks, Worktrays, and Events can now be exported to an Excel spreadsheet.
Task-level info can be edited from My Tasks and Worktrays.
Tasks can be reassigned from the My Tasks Dashboard.
My Projects Dashboard shows all Projects for which the user is the Manager.

Tasks

Tasks can be quickly reassigned from the Project's Task Grouping level.
Option to Save & Complete Tasks in a single operation.

Power Tools

Multiple Distribution creation Power Tool.
User Interface now follows a step-by-step/wizard design.
A filter mechanism has been added that requires at least one filter to proceed.

Document Specifications

Specifications can now be edited one row at a time.
All Specifications versions are visible in the grid.

ftwilliam.com Integration

Additional linking details for Plans and Contacts.
Updated Power Tool for linking Plans or Signers
ftwilliam.com username leveraged to allow direct access to certain areas using Navigation Assistance

Multiple tabs can now be opened for Worktrays, Projects, Plans, etc.
Most grids now provide options for sorting, filtering, grouping, and adjusting the page size.
All open tabs can now be quickly closed by selecting Close All at the top-right.
Drag and drop reordering of items in various places (such as in Search Preferences and Project Template editing).
Files can be dragged and dropped into the Add Files window.
Merge Document creation is available from any view within the Plan tab.
Reports now include hyperlinks to relevant Clients, Plans, Contacts, etc.
Feedback is now easier to provide.
Release Notes are now shown to all users upon logging in after a release, can be viewed at any time in-app.
NEW User Preferences
Dashboard/Worktray display (sorting, grouping, etc.) is now saved.
Control over data display density in grids and tables.
Control over default tabs.
Default Worktray selection.
Search result category preferences.
Other Functional Improvements
Dashboards automatically refresh when the tab is refocused, replacing a periodic refresh.
The search tab is no longer available by default, and only appears when a search is performed.
Lesser-used actions have been consolidated into the More menu.
Individual entries within most grids can be edited and/or deleted directly by hovering over the item and selecting Edit or Delete on the right-hand side.
The Complete button for Tasks has been relocated below the Task Items.
Visual Improvements
Application-level menus (Data, Communications, Reports, etc.) have been moved to the left side of the window.
A Views pane on the left side of most pages consolidates multiple levels of tabs.
"Breadcrumb" navigation replaces icon-based navigation to higher-level items (such as navigating back to a Client record from its Plan)
Add/Edit information sliders are now popup dialogs.
Removed Features / Other Limitations
File Bin removed.

Replaced by browser-based download mechanism.

Timekeeping weekly summary removed.

Replaced by ability to group time entries by period.

Management Dashboard removed.

Tasks and Plan Roles can now be reassigned en masse from the Employee tab.

Local directories can no longer be linked directly on the Plan tab.

My Tasks Dashboard and Worktrays limited to maximum 10,000 records.
Changes to account security may require logout/login.
Contact number no longer displayed on Plan tab.
Drag-and-drop functionality for Files and Interactions only available on Chromium-based browsers.
SalesPitch - Opportunity and Proposal addition wizards removed.

These are now added via the Add Data menu like any other record.

SalesPitch - Influencers Scoreboard removed.

This is now available via a Report.
---
Frequently Asked Questions
| | |
| --- | --- |
| When is PensionPro 2.0 Available? | PensionPro 2.0 is available now for all users at https://app.pensionpro.com |
| Is there a pricing increase for PensionPro 2.0? | No, there is no price increase for PensionPro 2.0. |
| Do I need to transfer my data over to 2.0? | No; PensionPro Desktop and PensionPro 2.0 use the same source of data, and changes made in one are immediately available in the other. No transfer is necessary. |
| When will the current Desktop application go away? | November 30, 2023 |
| Can users continue to use the desktop app? | Yes, you may use both the desktop and web application simultaneously while acclimating to PensionPro 2.0. |
| What browsers are supported? | PensionPro officially supports Chrome, Edge, Firefox and Safari. Any operating system can now be used to access PensionPro 2.0 as long as it can run one of the four supported browsers. |
| Will there be help/training videos for PensionPro 2.0? | Yes, keep an eye out for new content. You will also notice all existing help articles have been converted for PensionPro 2.0. |
| Will PensionPro 2.0 work on my phone or tablet? | Yes, PensionPro 2.0 is accessible via mobile device or tablet. However, depending on the size of your display, you may find certain functions difficult to use. |
| Does PensionPro 2.0 log me out after a period of inactivity? | PensionPro 2.0 will automatically log users out of the system after an inactivity period of 24 hours. |
| Do Security Rights automatically translate from the Desktop app? | Yes, all Security Rights and Roles in PensionPro 2.0 work exactly as they do in the Desktop application. |
| Is PlanSponsorLink affected by the web application release? | No, PlanSponsorLink.com is not affected by the release of the new web application. |
| Do existing integrations for DocuSign and ftwilliam.com still function? | Yes, all configurations and functionality has been converted into the new Web application. |
| Will reporting work the same? | Yes, reporting will function the same and use your currently saved filters the same way. You will also notice hyperlinks have been embedded in the reports for common items such as Clients, Plans, Projects and Contacts, making it easier to access data from a report. |
| Can we still use the Fetch system for reporting? | Yes. Fetch is not affected with the release of our new web application. All saved queries, security and access are preserved, and the web URL has not changed. |
| Will Authorized Computer Management still work as intended? | As PensionPro 2.0 will be accessible from any web browser—rather than an installable application—Authorized Computer Management won't work in its current form. However, IP Address Whitelisting is a new feature to replace this functionality. |
| Is Multi-Factor Authentication available? | Yes, MFA functionality is the same as you are used to in the Desktop application. |
| How can I use the URL for a Plan, Project, etc. from PensionPro 2.0? | PensionPro 2.0 allows you to copy and paste the URL from nearly any screen in for use in other applications. To do so, open the tab in PensionPro 2.0 for the item you would like to link to. Highlight and copy the URL from your browser and paste it into other applications as you desire. Security and Location Rights for accessing the link you shared are enforced no matter which Employee you share it with. |
| Can I use Hyperlinks in Notes and other places in PensionPro 2.0? | Yes, as long as the hyperlink is to a public-facing web URL that you have credentials to access. |
| Can I upload multiple files at one time? | No, each file uploaded to PensionPro must have unique information in required fields for an upload to be successful. Uploading multiple files at once would not be able to satisfy that requirement. |
| Has Power Tool access been made more granular? | No changes to the Security Rights have been made as part of the conversion from the Desktop app. Changes of this nature can only be made after all users have migrated to the Web application so that compatibility is preserved. |
| When will the Local Directory link functionality be in place? | Unfortunately, due to security concerns introduced by the move to a Web application, PensionPro cannot link directly to a local directory. As an alternative, the ability to easily copy directory paths has been introduced. |
| How do I submit feedback? | To submit feedback, select the Smiley Face in the upper-right corner of the Web application. Select an emoji to rate your experience, and enter any details you would like to share! |