Looking for the Desktop version of this article?
Not sure which plans are included on your PensionPro invoice? The Monthly Plan Count Invoice report can help with that. This article will help explain how to access, run, and navigate the Monthly Plan Count Invoice Report to confirm which plans are included in your monthly PensionPro Invoice.
Tier Availability: Track, Team, Business
Security Rights Required: Management Reports
Accessing the Monthly Plan Count Invoice Report
Users can see what plans they are being billed for on PensionPro. To do so, users must have the Management Reports security right in PensionPro. You can find more information on security rights in the following article: Adding Employees and Security Rights
To access the Monthly Plan Count Invoice report, click Reporting > Management Reports > Metrics > Monthly Plan Count Invoice Report to run a report, viewing all of the plans the firm is billed for.
Running the Report
After opening the report, the user can enter the date of the billing period end in the Period End Date field and click View Report. Plan counts will be displayed by Billing Category in the results.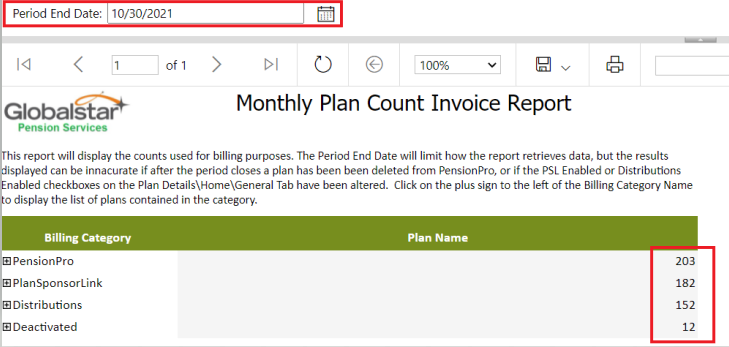 Navigating the Report
Clicking the + button to the left of the Billing Category will display the list of plans contained within that billing category. All plans will be organized alphabetically to help with locating any plans the user may need.