PensionPro 2.0 offers added convenience, as it can be accessed anytime, anywhere, as long as you have access to a supported web browser and an internet connection. There are not software installation or update requirements, meaning you will always have the latest PensionPro developments.
Users can access PensionPro 2.0 by entering the following URL in a supported web browser: https://app.pensionpro.com/. When navigating to PensionPro 2.0, users will land on the login page where existing PensionPro credentials should be entered. A screenshot of the login page is included below for reference: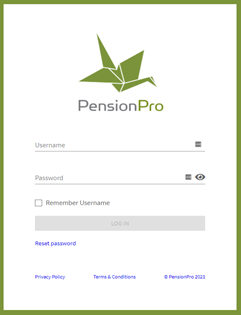 PensionPro officially supports the latest versions of Chrome, Edge, Firefox, and Safari browsers. Please view Supported Browsers for more information on how to find the version of the user's web browser.