Since most clients who convert to PensionPro have data stored in various locations, it is ideal to collect as much of the existing data as possible. Here, users will populate their PensionPro system with data by importing a series of import templates. The Data Conversion training module is designed to assist users in compiling and preparing their data for import.
PensionPro has many data fields though not all are required to successfully populate the system. It is ideal to collect or fill in as much data as possible for import to avoid manually populating the system in the future. 
Tier Availability: All Product Tiers
Below are lists of Required and Optional data import templates users can complete to import their data into PensionPro. The imports are organized by the order they should be imported in. To help prioritize a user's goals when importing, the grids below also include a description of what each import is required for.
Once each import template is populated, it is important to confirm that the data is complete and accurate. Once a template is imported, the data cannot be reimported to add or edit data.
Some imports may not be available in every product tier.
Required Data

*The Express Import is available for users that have a smaller amount of data to convert. This import takes the place of the Required Data imports as well as parts of the Investment Provider and Employer Data import templates. Please note that the Express Import template does not import to the level of detail of the separate import templates.
Optional Data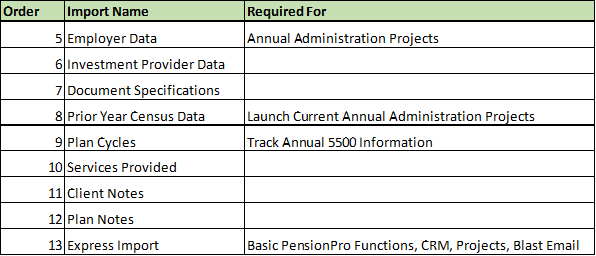 Import Process
Within each import section, users will discover how to:
Download Blank Import Templates
Populate Import Templates
Identify Required Fields
Identify List Values
Enter List Values Prior to Importing Data
Import a Populated Template
Links to Imports